String Quartet No. 5
My String Quartet No. 5 (2016) is performed here by the Ganache Quartet, four talented Eastman undergraduates: Holly Spangenberg (violin), Lydia Becker (violin), Rachel Barnett (viola), and Paul Bergeron (cello).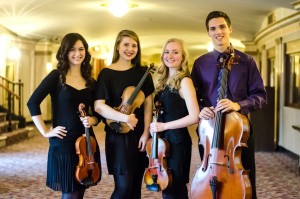 The first movement consists of five sections that are sort of unrelated but all have the same basic beat. I wanted to see if I could write such a piece that still hung together. The fifth section does return to the material of the first section, though.
The second movement starts out as a sonata form but becomes a kind of a passacaglia. In the middle it suddenly goes from 9/8 to 4/4, with the measure staying constant, and then back to 9/8 again; the players pulled this off beautifully.
Score | Parts (all in one PDF)
First movement

7:06

Second movement

5:03